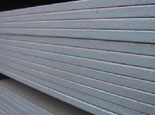 EN10149 S420NC steel plate/sheet,EN10149 S420NC steel plate/sheet, under EN standard, we can regard S420NC steel plate/sheet as high strength steels for cold-forming, normalised steel.
EN10149 S420NC is mainly used as high strength steels for cold-forming, normalised steels.The EN10149 S420NC steel is equivalent to SEW092 QStE420N steel grade.
S420NC
EN 10149-3
Number:1.0981
Comparision of steel grades
SEW092
QStE 420N
EN
Fe E 420-TD
BS 4360
-
ASTM
-
EN S420NC steel Chemical Composition
Grade
C
max
Si
max
Mn
max
P
max
S
max
AL
max
Nb
max
V
max
Ti
max
S420NC
0.2
0.50
1.6
0.025
0.015
0.015
0.09
0.1
0.15
EN S420NC steel Mechnical Properties
| | |
| --- | --- |
| Nominal thickness(mm) | - |
| ReH-Minimun yield strength(Mpa) | 420 |
| | |
| --- | --- |
| Nominal thickness(mm) | - |
| Rm-Tensile strength(Mpa) | 530-670 |
| | |
| --- | --- |
| Nominal thickness(mm) | From3 |
| A-Minimum elongation Lo=5,65√So(%) | 23 |
| | |
| --- | --- |
| Nominal thickness(mm) | to3 |
| A-Minimum elongation Lo=Lo=80mm(%) | 18 |
S420NC is one of the most widely used precipitation hardening grades in the business. While soft and ductile in the solution annealed condition, S420NC is capable of high properties with a single precipitation or aging treatment. Characterized by good corrosion resistance, high harness, toughness and strength.
Our advantages such as advanced management and operation concepts, suitable work facilities, highly qualified talents and a number of trade partners who have long-term and close cooperation with us have ensured us to provide global customers with competitive high-quality commodities and excellent services, quickly, accurately, conveniently and completely.
we also can supply S420M,S420ML,S460M,S460ML,please contact us if you need.
Bebon International is a professional S420NC steel exporter and a steel Stockist in china. We keep more than 1000 tons S420NC steel in stock every month. If you want to get the S420NC steel price, please do not hesitate to contact us. Any need in S420NC Chemical Composition and Mechanical Properties, please feel free to contact us by email or calling to us.

Are you also interested in further steel processing (machining)?
Just like you, 70% customers choose long-term cooperation with BBN steel not only for our good product and service quality, good reputation in the international market, but also for our experienced one-stop raw material supply and further steel processing!