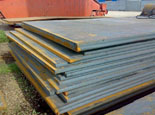 C40 steel plate, EN 10083 C40 steel plate, under EN 10083 standard, we can regard C40 steel plate as high carbon steel.
C40 steel plate is one mainly of high carbon steel,EN 10083 C40 steel plate is meduim Carbon Steels are similar to low carbon steel except that the carbon ranges from 0.30 to 0.60% & the manganese from 0.50 to 1.65%. Increasing the carbon content is approximately 0.5% with an accompanying increase in manganese allows medium carbon steels to be used in the quenched & tempered conditions. This steels are of particular importance because of unique combination of strength & toughness after heat treat treatment.
C40
EN 10083-2
Number: 1.0511
Comparison of steel grades
JUS
Č.14341
DIN
C40
BS
080M40, EN8
GOST
40
AISI
1040
UNI
C40,
NF
(AF60C40), (1C40)
C40 steel plate Chemical analysis
Chemical elements
C
Si
max.
Mn
P
max.
S
max.
Cr
max.
Mo
max.
Ni
max.
Cr+Mo+Ni
max.
%, by mass
0,37-0,44
0,40
0,50-0,80
0,045
0,045
0,40
0,10
0,40
0,63
Permissible deviation
± 0,02
+ 0,03
± 0,04
+ 0,005
+ 0,005
+ 0,05
+ 0,03
+ 0,05
At the option of the manufacturer the elements aluminium, titanium, vanadium and niobium may be added singly or in combination for grain size control purposes. Elements not quoted in table shall not be added to the steel without the agreement of the purchaser, except for the purpose of finishing the heat.

C40 steel plate Mechanical properties
Thickness of ruling section tR

Diameter in mm

tR ≤ 100mm
100< tR ≤250mm
250< tR ≤500mm
500< tR ≤1000mm
Re min (N/mm2)
290
260
-
-
Rm min (N/mm2)
550
530
-
-
A % min.

l-longitudinal

17
17
-
-

tr -transverse

-
-
-
-
KV min * (J)
l-longitudinal
-
-
-
-
tr -transverse
-
-
-
-
1N/mm2=1MPa
Heat treatment conditions
Quenching
Temperature, 0C
Cooling medium
Tempering
Temperature, 0C
Normalizing
temperature, 0C
830 to 870
Water or oil
550 to 660
850 to 890
we also can supply C35,C35K,C45,please contact us if you need.
Bebon International is a professional C40 steel exporter and a steel Stockist in china. We keep more than 1000 tons C40 steel in stock every month. If you want to get the C40 steel price, please do not hesitate to contact us. Any need in C40 Chemical Composition and Mechanical Properties, please feel free to contact us by email or calling to us.

Are you also interested in further steel processing (machining)?
Just like you, 70% customers choose long-term cooperation with BBN steel not only for our good product and service quality, good reputation in the international market, but also for our experienced one-stop raw material supply and further steel processing!