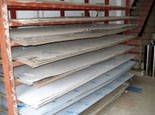 St52-3N steel plate, under DIN17100 standard St52-3N steel plate, under DIN17100 standard, we can regard St52-3N steel plate as low alloy steel St52-3N steel plate is one mainly low alloy steel, St52-3N Steel plate according to this specification are mainly for use in welded,riveted and screwed structural components,They are not intended for heat treatment,apart from stress-relieving heat treatment and normalizing.They are usually accepted by countries from Asian.Mostly,St52-3N is equal to S355N according to EN standard which are both belong to low Alloy steel plates.They can be worked for statically and dynamically stressed constructions

St52-3N steel plate Chemical analysis
Chemical elements
C max
Si max
Mn
max
P
max
S max.
Nb
max.
Al min
N max
%,by mass
0.20
0.15-0.50
1.60
0.035
0.035
0.02-0.04
0.02
0.009
St52-3N steel plate Mechanical properties
| | | | |
| --- | --- | --- | --- |
| Thickness mm | Yield StrengthReH[N/mm2] transv.min. | TensileStrengthRm[N/mm2]transv. | Fracture Elongation[%]transv. min. |
| 10-60 | 350 | 510 | 22 |
| 60-100 | 330 | 510 | 22 |
ST52-3N steel is a low Alloy, high strength structural steel which can be readily welded to other weldable steel. ST52-3N steel's Mechanical properties is Yield strength more than 355 MPa, tensile strength 490-630 Mpa. With its low carbon equivalent, ST52-3N steel possesses good cold-forming properties. ST52-3N steel plate is supplied in normalized or control-rolled condition. ST52-3N steel has many applications.Generally,ST52-3N steels is used for Machinery parts, mobile equipment, crane, boom, chassis, buildings, bridges and most structural activities.
BEBON steel is professional St52-3N suppliers,we also can supply St52-3,St37-3N,St37-2,please contact us if you need.
Bebon International is a professional St52-3N steel exporter and a steel Stockist in china. We keep more than 1000 tons St52-3N steel in stock every month. If you want to get the St52-3N steel price, please do not hesitate to contact us. Any need in St52-3N Chemical Composition and Mechanical Properties, please feel free to contact us by email or calling to us.

Are you also interested in further steel processing (machining)?
Just like you, 70% customers choose long-term cooperation with BBN steel not only for our good product and service quality, good reputation in the international market, but also for our experienced one-stop raw material supply and further steel processing!