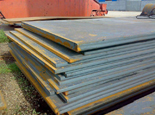 Generally speaking, API 5L, refer to line pipe--API 5L line pipe. Line pipe,is usually used for transporting oil,gas,water to gas and oil enterprise.
Steel grades, under API 5L standard, X60,X65,X70,X80, all have seamless pipe and welded pipe. For seamless steel pipe, the OD is 114-914mm and the ID is 4-40mm. For welded pipe, ID is 3.2-44.5mm, and OD is 21.3-2540mm.
At present, API 5L line pipes, we produce by microalloy heating treatment . With the development of line pipes,and welded pipe forming, and the progress of welding technology, welded line pipe has played more important role in the usage,especially for big diameter pipe, welded technology takes obvious advantages. Meanwhile, the low cost also makes welded line pipe, more popular. In a degree, this situation limits the development of the seamless line pipe.
Refer to the API 5L X60,X65,X70,X80 steel pipe, chemical composition and mechanical properties,please visit www.bebonchina.com. or send mail to bb@bebonchina.com , to get the information. Also,if you need the steel,please do not hesitate to contact us.
tag: API 5L GR A , API 5L X70 , API 5L X56