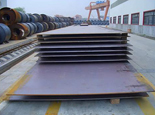 SEW WTST 52-3 steel plate, WTST 52-3 steel plate, under EN10155 standard, we can regard WTST 52-3 steel plate as Steel Resistant to Atmospherical Corrosion
WTST 52-3 steel plate is one mainly of Steel Resistant to Atmospherical Corrosion,WTST 52-3 steel plate is a weather-resistant structural steel with mechanical properties similar to WTST 52-3. By adding Cr, Cu and Ni, it formed oxide layers stick firmly to the work piece surface. This oxide layer prevents further corrosion of the steel.
WTST 52-3
SEW 087
Comparison of steel grades
SEW 087
S355J2G1W
DIN17102
STE355
NFA 35-502
-
BS4306
WR50C
UNI
Fe 510 D2K1
WTST 52-3 steel Chemical analysis
Grades
C
max
Si
max
Mn
P
max
S
max.
Cu
max
Cr
max
Ni
max
V
max
Nb
max
Al
min
WTST 52-3
0.16
0.50
0.50-1.50
0.035
0.035
0.25-0.55
0.40-0.80
0.65
0.02-0.12
0.015-0.060
0.02
WTST 52-3 steel Mechanical properties
Thickness
Yield Strength
ReH[N/mm2]
transv.min
Tensile
Strength
Rm[N/mm2]transv
Fracture Elongation[%]transv. min.
Notch Impact
Energy1)Ch Vcomplete samplelongitud. min [J]
-
355
510-610
22
-
we are WTST 52-3 steel suppliers ,also can supply WTSt 37-3,please contact us if you need.
Bebon International is a professional WTSt 52-3 steel exporter and a steel Stockist in china. We keep more than 1000 tons WTSt 52-3 steel in stock every month. If you want to get the WTSt 52-3 steel price, please do not hesitate to contact us. Any need in WTSt 52-3 Chemical Composition and Mechanical Properties, please feel free to contact us by email or calling to us.

Are you also interested in further steel processing (machining)?
Just like you, 70% customers choose long-term cooperation with BBN steel not only for our good product and service quality, good reputation in the international market, but also for our experienced one-stop raw material supply and further steel processing!
Fabrication and Machining Service