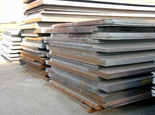 16Mo3 steel plate/sheet, EN10028 16Mo3 steel plate/sheet, under EN10028 standard, we can regard 16Mo3 steel plate/sheet for boiler steels.
16Mo3 steel plate/sheet is one mainly of Steel for boiler steels.EN10028 16Mo3 steel is mainly used for boilers and pressure vessels with elevated temperatures equivalent to DIN17155 15Mo3 and UNI5869 15M03, 15D3 (NFA 36205 ) and ASTM A204Gr.B.
16M03
EN 10028-2
Number:1.5415
Comparision of steel grades
DIN 17155
15 Mo03
NFA 36-205
15 D3
UNI 5869
15 M0 3
BS 1501
1503 - 243 B
UNE 36087
16 Mo 3
ASTM
A 204 Gr. B
JIS G3115
-
EN 16Mo3 steel Chemical Composition
Grade
C.
max
Mn.
S.
N
Cu
Si.
P.
Cr.
Ni.
Mo.
16Mo3
0.12-
0.2
0.40-
0.90
0.01
0.012
0.30
0.35
0.025
0.30
0.30
0.25-
0.35
EN 16Mo3 steel Merchanical Propertites
Grade
Tensile Strength
(Mpa)
Yield Strength
(Mpa)
Elongation in
100-150 mm(%)
Elongation in
16 mm(%)
Max Thickness
(mm)
16Mo3
440-590
220-275
19
24
250
16Mo3 Steel is mainly used for boilers and pressure vessels with elevated temperatures according to EN 10028–2 (2003). It is equivalent to 15D3 (AFNOR 36206 ) and UNI5869 16Mo316Mo3 with Molybdenum Alloy steel plates which is mainly used for constructing pressure vessels and boilers. The delivery condition of this grade shall be Normalized.16Mo3 is a chrome molybdenum based steel which has excellent heat resistance and corrosion resistant characteristics
we also can supply 15Mo3,17Mn4,19Mn6,if you need ,please contact us.
Bebon International is a professional 16Mo3 steel exporter and a steel Stockist in china. We keep more than 1000 tons 16Mo3 steel in stock every month. If you want to get the 16Mo3 steel price, please do not hesitate to contact us. Any need in 16Mo3 Chemical Composition and Mechanical Properties, please feel free to contact us by email or calling to us.

Are you also interested in further steel processing (machining)?
Just like you, 70% customers choose long-term cooperation with BBN steel not only for our good product and service quality, good reputation in the international market, but also for our experienced one-stop raw material supply and further steel processing!