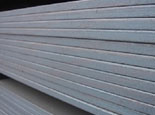 Grade: ASTM: A600, A600 A, A600 B, A600 C, A242, A600 A/B/C steel plate, A 600 steel resistant atmospherical corrosion.
Bebon International is a professional A 600 steel Manufacturer and exporter, we keep more than 10000 tons A 600 steel plates in stock, and we have a good relationship with per big steel mill.
A 600 steel equivalent grades:EU 155:Fe 510 D2K1, NFA 35-502 :E 36 WB 4,SEW 087:WSt 62-3, EN 10155:S355J2G1W.
A 600 steel plate specification:
thickness: 2-460mm, width: 1500-3200mm, length:6000-18000mm.
A 600 steel chemical composition(%): The steel shall contain, C max: 0.16, Si max: 0.50, Mn: 0.50-1.50, P max: 0.035, S max: 0.030, Cu: 0.25-0.55, Cr: 0.40-0.80, Al min: 0.02, Ni: 0.65, Mo max:0.30, Nb: 0.015-0.060.
A 600 steel mechanical properties:
A 600 steel Yield Strength min 355MPa, Tensile strength range is 510-610MPa, and the min Elongation can reach 22%.
We promise we can offer you the qualified A600 A/B/C steel plates at the competitive price and rapid delivery time. So if you need any offer or need consult any technical requirements. Please contact us at any time.