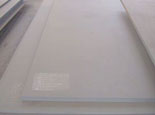 Grade: ASTM A302 grD , ASTM A302 grD steel, A302 grD steel plate, A302 grD steel plate price and supplier.
ASTM A302 grD covers manganese-molybdenum and manganese-molybdenum-nickel alloy steel plates intended particularly for welded boilers and other pressure vessels. According to their strength levels, the plates are available in four grades: Grades A, B, C, and D.
A302 grD steel plate specification: Thickness: 6-120mm, Width: 1200-3200mm, Length: 3000-18000mm.
The maximum thickness of plates is limited only by the capacity of the chemical composition to meet the specified mechanical property requirements.
A302 grD chemical composition%:
C max 0.25 ,Mn max 1.15-1.50 , Si 0.15-0.30 , P max 0.035, S max 0.040,Ni 0.40-0.70 ,Mo 0.45-0.60.
A302 grD mechanical properties:
A302 steel Yield Strength min 315 MPa, Tensile strength max 520 MPa.
Bebon International as a professional A302 grD steel supplier, can offer you qualified A302 grD steel plate/sheet at the competitive price and rapid delivery time. So if you need any offer, please do not hesitate to contact us.
tag: ASTM A302 grA steel , ASTM A302grB steel , ASTM A302grC steel , ASTM A302grD steel