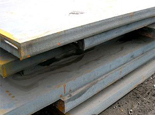 A242 Type1 manufacturer, A242 Type1 suppliers
Our company's main product is Atmospheric Corrosion Resistant Steel, Under Europe standard, we can provide our customers S235J0WP, S235J2WP, S355J0W, S355J2G1W. under Germany standard, the material we can supply are WSt37-2, WSt37-3 ,WSt52-3, and other mainly products, such as ASTM A242gr1, A 600 A/B/C, A588grA, A709gr50W, Corten-A and Corten-B and so on…
In the interracial market, A242 Type1 steel plate has become the hot products, the need is very big. As A242 Type1 suppliers, our A242 Type1 enjoyed a popurlarity because of competitive price, first-class quality under best professional service.
In the future, with powerful financial strength, advanced managerial concept, excellent marketing service, strict quality control system and the whole scientific method, we would like to develop together with your hand in hand. Adhering to the operation principle of "Faith First, Clients Uppermost", we will return you with high-quality products and complete after-sale service with the lowest price.
To choose a good A242 Type1 manufacturer means find a good price, best quality and professional sale team. We sincerely hope we will become your long-term cooperator for win-win business. Any inquiry on A242 Type 1 steel plate or want to find A242 Type1 manufacturer, pls feel free to contact BEBON sales team. we can supply not only A242 Type1 manufacturer ,but also S355J0W Steel , S355J2G2W Steel , S355J0WP Steel , A 588 Gr. A Steel ,please contact us .