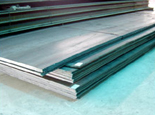 A 330-1,2 steel plate
Steel Category:General Construction Steel
Steel standard:NBNA21201
Steel grade:NBNA21201 A 330-1,2
Dimension: Thickness 5-300mm, Width 1500-3500mm, Length 3000-12000mm
Application: used for metal building systems, roofing and siding components, doors, commercial and residential framing, truss plates and connectors, decking, bridge and highway products, culvert, central heating and air conditioning equipment, water heaters, retail shelving systems, and steel furniture.
A 330-1,2 steel chemical composition :
Chemical elements

C≤ 16mm
max

C>16mm
max

Si
max

Mn
max

P
max.

S
max.

N
max

%,by mass

-

-

-

-

0.045

0.045

0.012
A 330-1,2 steel mechanical property :
thickness

Yield StrengthReH[N/mm2]
transv.min.

TensileStrengthRm[N/mm2]transv.

Fracture Elongation[%]transv. min.

Notch Impact
Energy1)Ch Vcomplete samplelongitud. min [J]

t≤ 16mm
t >16mm

335
325

-
-

t < 3mm
t ≥ 3mm

590-770
570-710

Up to 1.5mm
1.51-2.00mm
2.01-2.50mm
2.51-2.99mm
≥ 3mm

7
8
9
10
14
BEBON STEEL will offer you the details of A 330-1,2 in the quickest time and appeal to all kinds of requirements.If you are a trader,a producer,a purchaser,a technical person or some kind of the career, You should have no hesitation to contact us if it's available as long as you want to be the No. 1 in your steel market. Our service will not disappoint you abosolutely.
Should you need A 330-1,2 in EN NBNA21201 standard, please visit our website:http://www.bebonchina.com/e-store.
or contact us by TEL:0086-371-86151827,0086-371-86151527
FAX: 0086-371-86011881
Oficina Dir: 2801 B# International enteprise center Zhengzhou city in China.
Post Code: 450001
E-mail: BB@bebonchina.com
Thanks for your attention in advance.